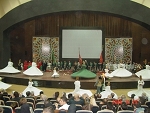 Dear Colleagues,
it is our utmost pleasure to invite you to attend and contribute to both the 23rd Annual Conference of ARABMED and the workshop training programme which the ARABMED is organizing jointly with the universitiy of Aleppo and Erlangen University. Both events will take place in Aleppo, the capital city for Islamic culture, from October 28th to November 4th, 2006. Our aim is to facilitate knowledge and communication across professionals or scholars who have a scientific interest in medical research and allied fields.
and Syria
Our first and second announcements for participation this year have attracted an overwhelming responses. The scientific committee had the difficult task of selecting only 160 papers for the conference. Most of which will be oral presentations divided into 18 sessions. In addition, there will be around ten training workshop programmes on several issues such as cardiac disease, gastroenterology, deontology, pediatrics, child psychiatry, food intolerance, pain therapy, ozone therapy, intensive care, and orthopedics. However, the workshop programme is rich and will be important and relevant to all participants. We hope that you are able to meet collegues in these sessions and create lively discussions and the opportunity to learn from each other. It should also be mentioned that submissions have been made from a wide range of European and Arab universities and hospitals. Thus, we are expecting delegates from 18 countries (Germany, France, UK, Switz
erland, Sweden, Canada, USA, Iraq, Poland, Bosnia, Ireland, Jordan, Egypt, Bahrain, United Arab Emirates, Saudi Arabia, Palestine, and Syria). We are extremely honored by the Patronage of His Excellency Muhammad Naji al-Utri, Prime Minister of Syri . Our sincere appreciation and gratitude to our host and partner, Professor Muhammad Nazir Akil, President of Aleppo University. We would like to thank all members of the scientific and organizing committee for their hard work. Last but not least, thanks are due to all the participants who have submitted their work and to all our delegates who are behind the success of this scientific gathering. A warm welcome to you all in Aleppo and best wishes for a rewarding scientific conference.
Program :